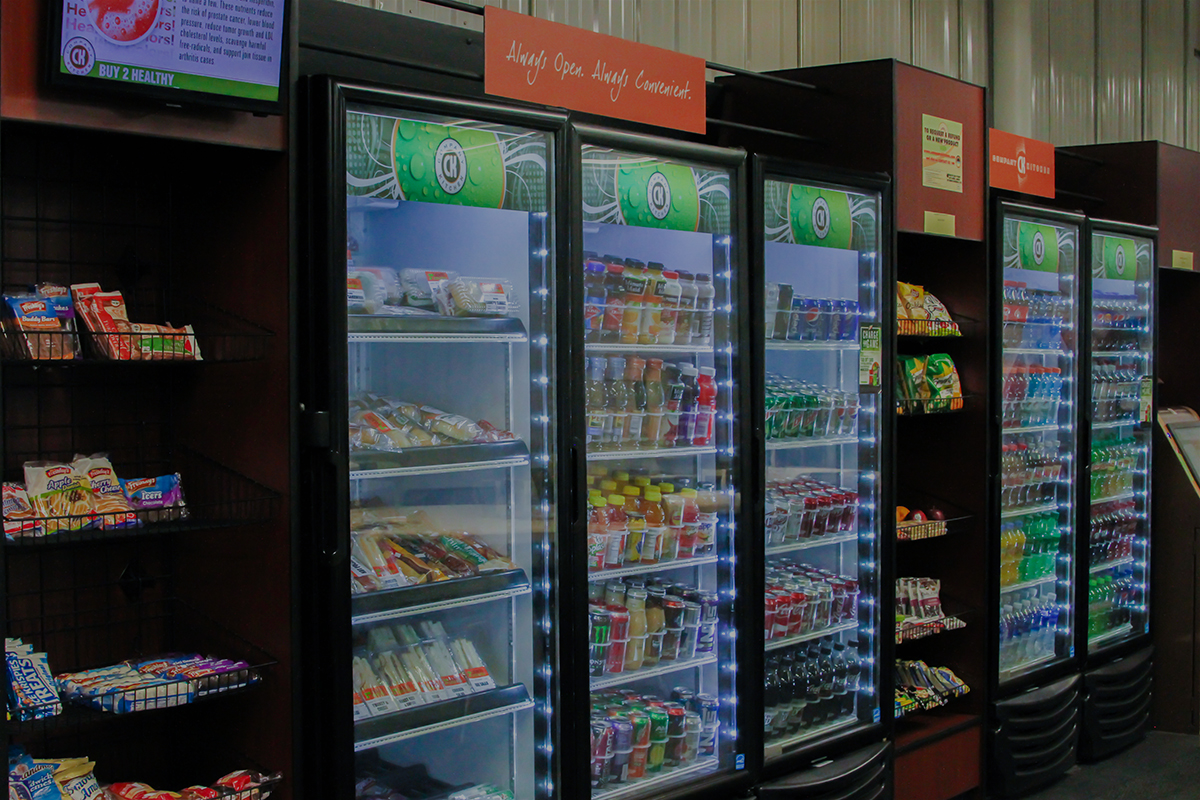 Stephens Vending
Providing your Employees with only the Freshest and Healthiest Dining Options
Fresh & Healthy
Healthy Choice
Stephens Vending provides convenient, easy access to Healthy Choice food. Allowing your health-conscious employees the ability to easily identify products that meet their nutritional needs. Whether it is low-sodium, low-carb, low-fat, or low-calorie, your employees can find what they need. Healthy Choice items are available from Beverage, Snack and Fresh Food Machines.
HERE'S THE FACTS:
87% of Americans are making an effort to eat healthy.
60% of Americans have diet restrictions.
42% of working age adults use nutrition facts.
Employers are able to directly impact their employee's health and wellness by providing their employees with the healthy foods they need. The Healthy Choice program allows employees to track their nutritional choices and make the best choice for their needs.
Fresh Food Commissary
Our FDA approved supplier creates deli-fresh sandwiches, baked potatoes, salads, vegetable and fruit trays, soups, and a wide variety of entrees on a daily basis. These products are delivered using refrigerated trucks to ensure peak quality and freshness.
Company Kitchen
Stephens Vending in partnership with Company Kitchen, wishes to provide your establishment with the healthiest dining solutions. There are options such as sandwiches from the Country Fresh Deli, healthy snacks like granola bars and nuts, and even fresh fruit.
In partnership with Company Kitchen our Micromarkets cater to everyone with focus on fresh and healthy choices. We provide nutritional information with all of our items, so you know exactly what you are purchasing.
If you would like to know more about Company Kitchen's workplace food solutions, please click here.
PHONE
(620) 251-9675
LOCATION
1112 W 12th Street
Coffeyville, Ks 67337
HOURS
M-F 8am–5Pm
Our Technicians are on call 24/7 to assist you
Vending
Vending has been the heart of our business. We take pride in providing vending solutions for your business that work for your employees and your guests. We offer a wide variety of vending options and work closely with you to address your needs. We understand that your company may have unique vending needs and work to make the process seamless and problem-free.
Promotions
We are able to partner with our major suppliers such as Pepsi, Mars, and Frito Lay to bring your employees and guests different promotions through the use of Coupons, Tokens, Gift Certificates, Prizes, Merchandise, and Free Product. The suppliers fund these promotions as a way to introduce new products and to promote their top selling brands with no additional cost to you.
State of the art equipment
Energy Star- Many of the newer machines come with the Energy Star rating. These machines require less energy, saving your business money, and helping you be good environmental stewards.
Sure Vend Technology- This technology is designed to eliminate refund situations due to product hang-ups. If the product does not cross the infrared beam in the delivery tray, the machine will attempt to vend the item three times then it will offer you another selection or your money back.
Dollar Coin and Token/Coupon Capable- The newer style machines are capable of accepting the new dollar coins and also can be set to accept tokens or coupons for employee appreciation or promotions.
Service- Our service technician team carries over 45 years of experience. We service our machines by territory and do preventative maintenance to keep them in top working condition.
Our vending services are regulated by the US Department of Agriculture and pass yearly inspections. Our machines are fully insured, including product liability.
Office Coffee
Stephens Vending's Office Coffee Service features name brand coffee, tea, hot chocolate, cappuccino choices, condiments, cups, and paper goods. We understand that running your business takes all of your focus and sometimes a lot of coffee! To best serve you, we strive to make your office coffee hassle free and reliable.
We Offer Name Brand Coffee Equipment and Coffee
We provide coffee, equipment and all related accessories for a complete coffee station.

We clean, repair, or replace all equipment and machines as they need service.

We deliver all coffee and related products on a regular schedule without the headache of re-ordering product.
We service your machine and keep all your equipment in peak working condition as well as keeping your supply of coffee stocked. In return for our great customer service, we require that all coffee and related products be purchased through us.
Whether you need simple vending machines for your customers or a complex system of vending to feed your employees, Stephens Vending can help you. With a wide variety of coffee service, drink machines, snack services or our latest fresh and healthy line, we are ready to help any business of any size. Stephens Vending currently services customers like Coffeyville Community College, Neosho Community College, Allen County Community College and Independence Community College with vending machines for their student body. We also provide John Deere Coffeyville Works, Standard Motors and Cobalt Boats with dining options for their employees while on shift that range from fresh salads and fruit to hot meal entrees.
Stephens Vending: Quality, Commitment and Service since 1975
Stephens Vending is focused on great service. Our vending company is in the top 25% of the largest vending companies in the US. The Stephens family started their business with one account, a business that had over 1,000 employees, and we still have that account today. We have added more than 100 accounts since then.
Our customers are #1; they are our focus. We take service calls 24 hours/day, 7 days a week, weekends and holidays to ensure that your needs are being met.
OUR MISSION:
Our mission is to enhance employee morale by providing a no-compromise food, beverage, and office coffee service.
OUR VENDING GOAL:
To offer your employees a large variety of fresh, nutritious food and snacks with name brands and quality in mind.
To keep your vending equipment clean, filled, and working during all hours.
To operate in a professional and ethical manner, and to provide your employees with tangible benefits from their food service program.
To be managed well and virtually trouble free for years to come.
About Our Business
Stephens Vending has been in business for over 40 years. We have over 100 accounts and hundreds of pieces of vending equipment on location. Our business office, warehouse and maintenance department is in Coffeyville, Kansas, and is located within 60 minutes of all of our accounts. Stephens Vending will do business within an 80-mile radius of our home office, which is located in Coffeyville.
Our Credentials
Member of NAMA, National Automated Merchandise Association
Member of MAMA, Midwest Automated Merchandise Association
Member of Unified Strategies Group (USG)
Experienced Service Department
2 Service Technicians for 5 Routes- Over 45 years of combined industry experience to diagnose and repair equipment quickly and efficiently when there's a service issue. All technicians carry extensive parts inventory to minimize equipment downtime.
Radio dispatched 24 hours a day- Seven days a week to respond to all service issues typically within two hours or less.
Call Tracking- All service calls are recorded in a data base and reviewed by management to maintain high service and upkeep equipment at the highest level.
Preventative Maintenance Program- Machines are maintained by technicians by territory and are routinely serviced to prevent equipment breakdowns.
Contact Us!
Call (620) 251–9675 from 8 am – 5 pm M-F to speak with us about our vending options. If you have a problem, we take service calls 24/7. You may also fill out our contact form below and we will respond to all your questions as soon as we can. Thank you for inquiring about what Stephens Vending can do for your employees and your company!